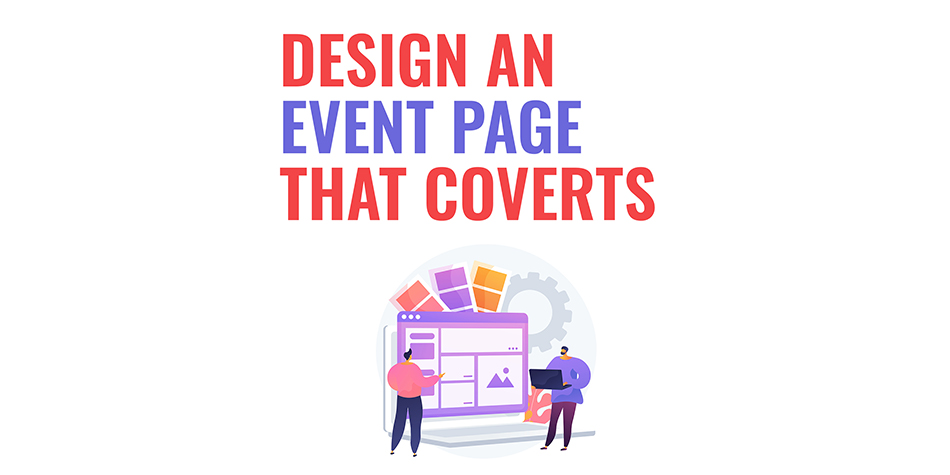 5 tips to design an event page that converts
A successful event needs people and to get those people, you need to design an event page on your website. This type of website page provides people with all the information they need to know, the vibe and why they should be going. If done right, you will have a page that draws in people and gets them to register.
It might be tempting to just create a Facebook event or something similar and call that a day. But that doesn't give you a realistic number on who will join. It also excludes everyone who doesn't use Facebook. While social media should not be ignored for your event, a website page can be shared on those events.
Make an event page that converts with these five tips.
A website page can take viewers directly to conversion with no other distractions. Furthermore, this page opens up the potential for other types of advertising. From physical posters to Google Ads, a dedicated event page doesn't limit you.
To make sure your event page performs at its best, we have put together five tips that will give your design process a boost.
Design an easy-to-read layout.
Engage your audience with visuals.
Pick the perfect colour palette.
Craft a strong and direct call to action.
Make your event page mobile-friendly.
Design an easy-to-read layout.
You have a very limited amount of time before a visitor to your website decides to stay or bounce. Less than 10 seconds. This is why creating a layout before we start adding visuals is crucial. For your event page to get the essentials across in such a short amount of time, you need to put the key information top and centre.
Here is a brief list of everything you want to be able to see on landing.
Event name and description.
Cost, date, time and location.
Sign up button with clear CTA.
Engaging images or video.
To keep these elements clear and easy to read, you need to make use of white space. It's no good if people can't find information or the sign-up button and white space will help you with that. Take time with the layout to get the use of white space just right. Too little will clutter the page. Too much will disconnect the elements.
The goal of your layout is to make the event page scannable, legible and lead the reader to the sign-up.
Engage your audience with visuals.
People are going to look at the visuals to judge the tone and how much fun your event will be. So stay away from bland, low-quality and stock images. They will hurt your event page and in turn, your event.
Source high-quality images and videos that both represent the event and your personal brand. Through proper target market research, you will be able to narrow down the search for that perfect image.
Consider including 3D elements and interactable design if it would boost the goal of your event.
Pick the perfect colour palette.
Different colours evoke different emotions. We could create a whole blog post just on how certain colours and combinations of colours affect us.
Chances are, your brand already shares a similar tone or vibe that your event will have. Pick a palette that will use your brand colours and bring out the emotions you want readers to feel for your event.
Before you finalise your colours, consider how they will impact the colour of the text. Dark backgrounds need light text and vice versa. If not planned properly, your important text could annoy people struggling to read it.
Craft a strong and direct call to action.
The goal of every event page is to get people to sign up. To encourage this action, you need a strong call to action (CTA). When writing, think about what the next step in the registration process is, the target market and your brand's voice.
Write many different versions and after a while, pick the one that gives the clearest instruction in your brand's voice.
Make your event page mobile-friendly.
Most people browse the internet on their mobile devices which means that most of them will also see your event page on their smartphone or tablet. A mobile-friendly event page needs to prioritise the layout on a smaller screen and make the registration easy to do with thumbs.
To help you out, we have a whole blog to make a website more mobile-friendly. You can use that advice on your event page too – 5 tips for a more mobile-friendly website.
Make your next event page successful with Web2Web.
Every page on your website serves a purpose and an event page serves one of the most important ones, conversions. Because of this, it's all-important that the design and development for that page are on point. This is where the expert team at Web2Web comes in.
Our designers, developers and copywriters have years of experience with creating website pages that convert. If you want your next event to speak to your audience on your website, contact us.