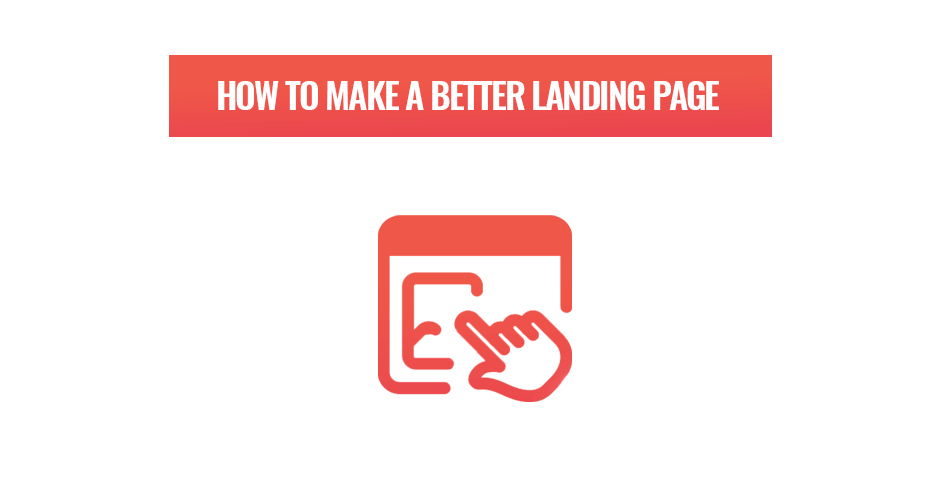 Make a more successful landing page
A landing page is an essential part of increasing your conversions and earning new clients, and that is why you need to make it successful. We cannot tell you how frustrating it is seeing a great advertising campaign that leads to an unfulfilling landing page. This type of situation leads to a high bounce rate and decreased conversions.
You only have a few seconds to grab the attention of potential clients. This makes crafting a great landing page a difficult task. From images to copy, every little bit counts to its success. In this article, we are going to cover the key aspects of a successful landing page and how you can use them on your own website.
What makes a landing page successful and how would you use one?
A landing page is the web page a user goes to during a marketing campaign or a Google search. Anywhere you link to is considered a landing page, but what you really want is for that page to answer a client's problem. It's easy to fall into the idea of just using a home page, but this couldn't be more distracting to your clients.
Landing pages keep the user's attention and increase conversions way better than a home page can. This is because they are centred around one call to action (CTA). It removes unnecessary distractions for your goal. With other links and information out of the way, you can reinforce your message which can increase your conversions.
Here is how to make a more successful landing page.
While there are many ways you can make a landing page, they all share one element. A goal to get conversions. By following the following guidelines, you will be well on your way to increasing the effectiveness of your landing pages.
Images & Design.
The first impression is the one that counts the most. Think about the first time you met with a potential business partner or had an interview. You likely judged the quality of that person by the way they presented themselves. The exact same thing happens from your clients when they land on your web page. This time you don't have time to convince them with personality, you only have a few seconds.
A well-designed landing page will capture the attention of your clients. Use an eye-catching image to draw in your client's attention and the rest of the design to break up long text. Be sure that every element here is high quality, on-brand and supports your initial goal.
The design as a whole should be clean, welcoming and easy to read. Consider reducing the amount of navigation you give to your clients to reduce distractions and keep scrolling to a minimum. The less your clients have to move around on the landing the page, the better.
Headlines & Copy.
Everything we have just discussed is nothing without great copy. It needs to be exciting and informative. We can break all the text into three categories: headline, body copy and CTA. To make these 3 elements work to the best they can, you need to use or identify your unique selling point. What answers does your product or service give to your clients and in which ways are you different from the competition? Use those answer to focus your landing page's copy.
The headline needs to use a few words to give a strong message. It's the first thing you client will read, and a good headline will make them want to read more. The body copy will follow and support your headline. This is where your brand's personality can shine. Keep this text to the point and as short as possible. Remember, everything here should go back to your initial conversion goal.
Call to action.
As the most important copy on the page, it deserves its own heading. The CTA is the core of any conversion goal because it tells the client what to do. The success of your marketing and landing page all lies in how many clients interact with the CTA.
For it to be as effective as possible, you want the design of that page to make it stand out through colour, space and typography. Avoid generic copy like "Click here". It's overdone and doesn't support your goal in the way uniquely crafted copy can. As an example, something like "Listen for free" or "Start reading" have clear objectives that can support a goal.
A word of advice, don't add more than one CTA to a landing page. You may want your clients to sign up to your newsletter, follow your social media and buy your product, but having all those goals at once can quickly scare away potential clients. Don't be a YouTuber and throw in every subscribe and affiliate link at the end of a video. They are not effective on a landing page. By now you have a strong goal, stick to it.
Mistakes to avoid.
Today, most online traffic comes from mobile devices. This means that most of your clients are going to find your landing page on a phone or tablet. Since a landing page is just a single page on a business website, it can be easy to forget that fact. Don't make that mistake. Responsive design that made for mobile-first get more conversions that other landing pages.
In the same way that more than 1 CTA can scare away clients, huge signup forms can too. It's tempting to want more analytical data but long forms with personal questions will drive away potential clients and decrease the conversions you would have gotten on your landing page. Consider keeping it as simple as possible with just email and password.
Website speed is another important factor for a landing page. It needs to load quickly for your clients to avoid frustration. Optimizing the images is one very important step for this.
Test your landing page.
Once you have your landing page running, it's important to monitor its progress. Through analytics tools, you can see how successful your page is by keeping an eye on bounce rate and conversion rate. With those results, you can refine all the steps you have taken to make this page even more effective. Don't be afraid to test different approaches. Times change and so do your clients, which means your landing pages should too.
Make the best first impression with Web2Web.
When it comes to designing and developing good websites, it takes dedication and a lot of time to perfect. This applies to landing pages too as they are essentially extensions of your website. At Web2Web, we combine website creation and online marketing to give stunning results.
Our team of professionals have already put in the time it takes to make a successful landing page so that you can save that time. We understand your conversion goals and know how to implement them in a way that appeals to your clients. Talk to us if you are interested in boosting your online marketing performance.