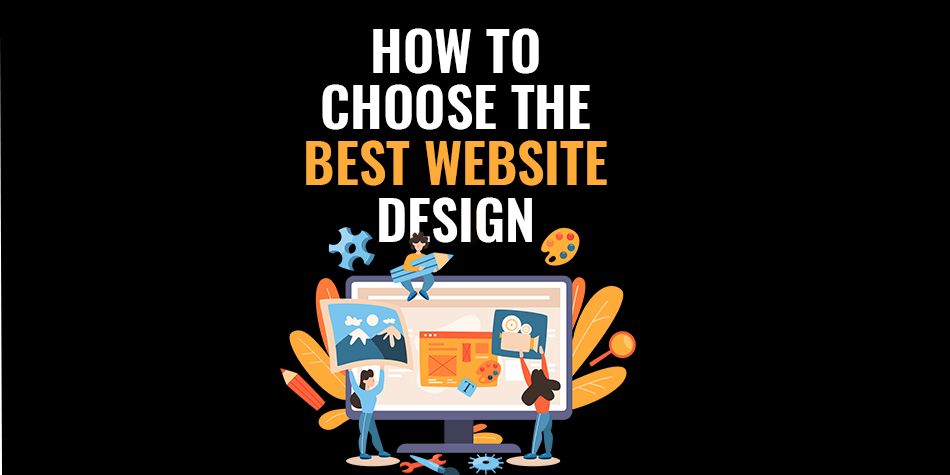 How to choose the best website design
When you have a team designing your new website they might present you with a few ideas to choose from. A good customer experience relies on your website, so you want to pick the perfect one. It's a lot more complicated than the one you like the most. Let's find out why and how you can pick the perfect website design.
Many business owners make the mistake of picking a website design that they like the most. The problem here is that this is from their perspective and not their customers'. Your clients don't know your business the same way you do and they are likely to turn to other websites that speak to them more.
As we go through each step for choosing the right website design keep in mind what you want your clients to feel when they see your website.
1. Simple is better.
Your visitors want a great experience when they land on your website which is highly affected by how quickly they can find what they are looking for. If your website is full of clutter, hard to navigate or confusing, those potential clients are bound to bounce and seek an alternative.
The internet has near-unlimited options for people to choose from. To keep them on your website, your website needs to be the best experience they can find. This is why choosing a website design that is as simple as possible is vital to your website's success. It also helps Google SEO to boot.
2. Whitespace is your friend.
To follow on from keeping this simple, you also want your website to use whitespace effectively. This is all the space on your website that is showing no content, images or videos. It's just the background.
When a page is crammed full of elements, it will be overwhelming and difficult to focus on for your clients. This will lead to frustration, more bounces and fewer conversions.
When a website page uses a lot of whitespace, this allows your website to breathe and is very simple and easy for clients to read and understand your website. Whitespace is also what gives a business website that professional and engaging look that you definitely want to give to clients.
3. Optimised for mobile.
If you have worked with good website developers before, you will know how important optimising for mobile is. Phones and tablets are where the majority of internet browsing is done, so a website that does not cater to that is failing its customers.
Designing for mobile first and having a responsive website design is critical for your business. You want your website to serve all screen sizes and offer an optimal experience, no matter where your client is browsing.
4. It needs to load fast.
It can be difficult to know how fast a website will load when you are in the design phase, but there are a few key elements to look at.
Consider the number of images and the quality that each one will need to be. If there are loads of images that all need to be very high quality, the website is going to take longer to load. Discuss with the designer the size each element will be and how you can optimise it for better load times.
The faster your website is, the better your SEO and the happier your clients are.
Professional website design can be simple with Web2Web.
From design to development, Web2Web offers you the full package when it comes to putting your business online. Our team covers every aspect of website design and knows exactly how to make it shine in the busy online world.
If you are looking to design the perfect website for your business, contact Web2Web today.