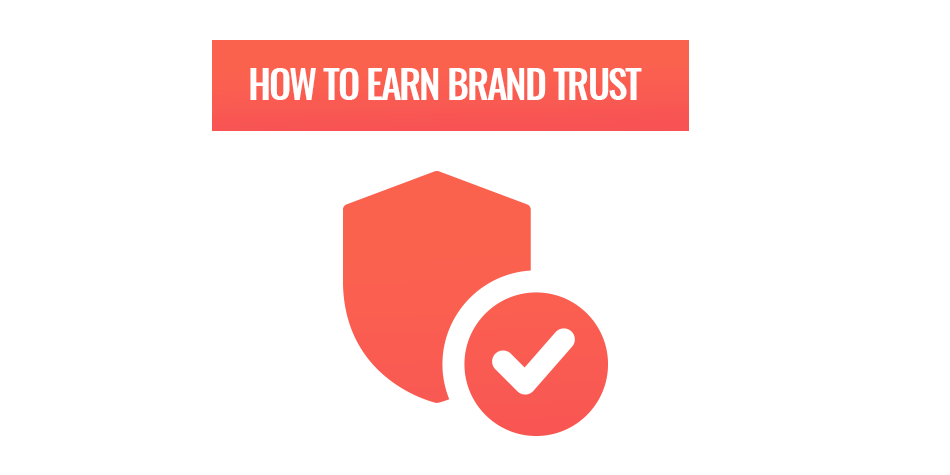 How to earn brand trust
Brand trust is one of the essential tools your business has to learn how to earn in order to be successful. Determined by your client's expectations and how you meet them, building this trust can take a lot of time but it has a huge payoff. Once gained, clients are more likely to buy your products or services and make them return to you again. You become part of their everyday life.
Chances are, you already have decent brand trust or you are starting out a new brand and have no idea on where to begin. Don't worry because we are going to talk about tips and tricks that can help start building and improve already existing brand trust.
The how and why you need to earn brand trust.
Trust is one of the most important factors for any client. They want to know that the brand they choose will give them a good experience first before purchasing anything. This leads them to search for proof from the moment they consider your brand. Preferring social media and friends over the standard advertising.
Reviews are also a big part of how you can build brand trust. The average person will read many reviews before they are convinced on the product or service in question.
After a brand trust has been established with your clients, you can start to gain the benefits of all the hard work you put in for it. This includes return customers and even word of mouth advertising. There are only positives for your brand to gain for the work we will put in, so let's start finding out how we can do it.
How to earn brand trust.
Before we begin answering, "how to earn brand trust", we need to find out how your current clients view you. If there are any loose ends or room for improvement, identifying it and putting it into a solution plan is critical. We can get this information from sources of feedback. These include; reviews, social media and tracking systems attached to your website, for example, Google Analytics.
Now that we know where to find the information, let's find out what we can do to create brand trust.
Improve your customer experience.
Customer experience starts from the moment a client finds your product or service and only truly ends well after they have used it. From start to end, your client will be forming their opinion of your brand, so making the whole experience a good one is vital. If you can offer great service, that client is more likely to return, leave a positive review and trust your brand.
A returning customer that trusts you and spreads that trust is all you can ask for when it comes to clients.
In the case where there are negative experiences and reviews, the most important thing is to take them seriously. Listen to suggestions and find the core problem underneath the frustrations and address them. Creating a more personal experience is another way we can really strengthen brand trust. Nothing beats having a client that feels like they have gotten to know a brand and achieving that can be simple.
Here are our favourite ways to make a more personal customer experience:
Offer a loyalty program.
Allow your clients to create online profiles.
Use geotargeting to give more appropriate results.
Categorise your emailers and let clients choose what they want to receive.
Build a strong social media presence.
More and more people are going to social media to find out more about a product or service. There is also a no better place to share your brand's message and personality than social media. When you post useful information related to what your brand is about, your clients will follow and engage. By making a positive experience on social media, you are building brand trust.
It is important for you to find out where your clients are online and use the same social media platforms as they do. Do your best to select more than one platform and update it regularly so that you can become part of your clients' everyday life.
To help boost your social media platform for brand trust, even more, make use of user-generated content. These are the reviews, article, videos, pictures, podcasts and posts that other people have made outside of your company. Using them in your own posts shares your clients brand trust with other people who are still forming their trust.
Sharing brand trust, builds brand trust.
Your brand needs to be honest and authentic.
For real trust to form in any relationship, all parties need to be trustworthy. It works in relationships between people and it will work in your brand's relationship with its clients. We can start working on showing honesty and authenticity by making social media posts that share the brand's culture. When it's someone's birthday, celebrate it with a picture. When someone brings cake to the office, show your clients how much fun it is.
There is no hiding the truth either, you can't fake authenticity. People are very good at noticing when something is off and having clients learn about even a small lie could ruin brand trust in more ways that the lie gained. So, don't delete a bad review, address the problem they posed and show your solution. When clients see you improve to make their experience better, they will appreciate it.
Become an active member of your community.
The more people see your brand in a positive light, the more they are to trust it. Pick events and causes that your target market engages in and get involved as your brand. It is important to be careful with the event or cause and what you say about it. Like we mentioned earlier, people can spot a fake message.
Be consistent in your improvements.
If you have used what we have just spoken about to improve your brand trust, don't stop. Consistency is incredibly important. Clients want a trustworthy brand that they can rely on and even though changing your image may be tempting, it's not trustworthy. In fact, changing your identity or dropping what you did to create brand trust will leave you in a worse place than when you started.
Get everyone that is part of your brand involved. Create a brand identity that includes all the visuals, fonts and personality for employees to follow. Then use that to publish social media posts and emails regularly so that clients can make your message part of their schedule.
Get consistent social media marketing and management.
How to earn brand trust can vary between businesses, but it all takes a lot of time and management. That is why finding a team like Web2Web that can help improve your brand trust through social media is so important. We have professionals who are skilled in identifying and promoting businesses and know how to make them shine on any platform while keeping consistent and relevant. Talk to us today if you want stronger brand trust.