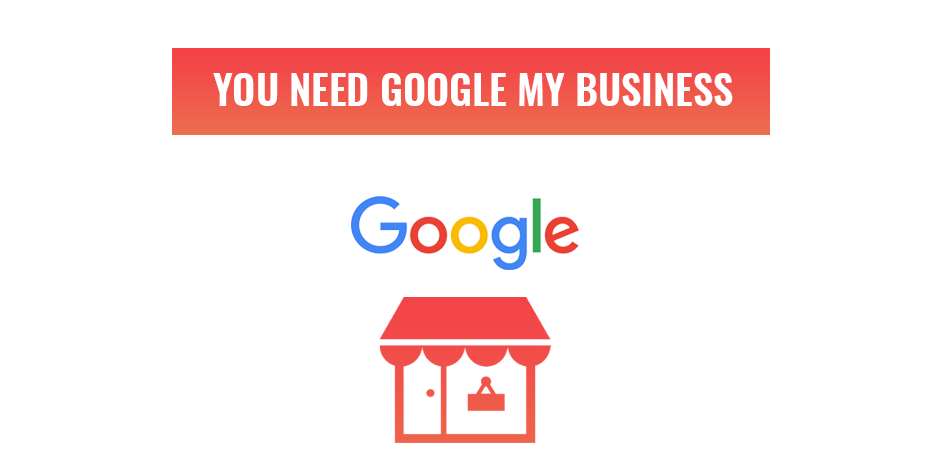 How to use a Google My Business account
If you want more visibility on Google but don't have a Google My Business (GMB) account yet, then you need one. Even if you have a Google Business Profile to appear on Google Maps and local SEO, GMB will boost that significantly. In this article, we are going to go over what a GMB account is and why your business needs it.
What is Google My Business?
Google my Business is a free tool that Google offers as an extension to your Business Profile. Your Business Profile is how you list your brand on Google Maps and local search. This alone is a huge boost to your local success and SEO.
With the Business Profile, your clients can now leave reviews, upload images and ask questions. You don't need GMB for this, but your Business Profile is lacking one major thing. Management.
Google My Business lets you take control of your Business Profile. With it, you tell Google that you are the owner and Google gives you the keys to unlock its features. Now, you can customise, manage and optimise your profile on Google.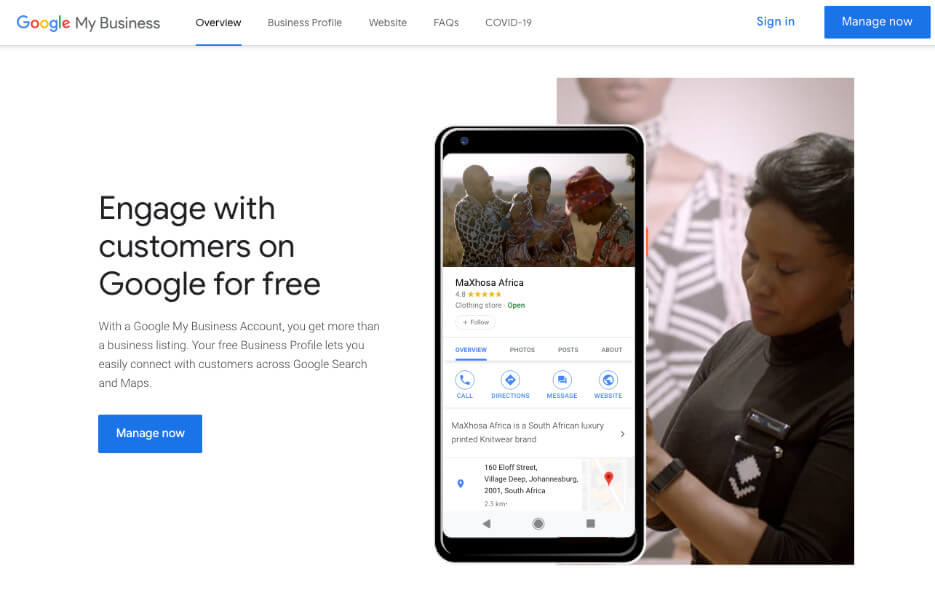 How to use your Google My Business account.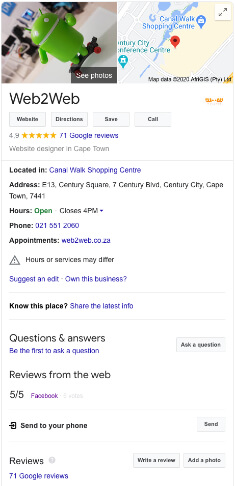 By using GMB, you gain the ability to:
Show off more about your business.
Interact with your clients.
Gain useful insights.
Boost your local SEO.
Show off more about your business.
Using your GMB account you can add more details about your website. Information like:
Open hours,
Website link,
Products,
Prices,
And more.
With GMB, you can edit this information at any time. This is especially useful for holidays and other critical information. One recent example was when lockdown began and many companies had to temporarily close.
By completing your Google My Business account, you will make full use of the search engine results page (SERP).
Interact with your clients.
With just a Business Profile, your clients can leave reviews and ask questions. Now with GMB, Google trusts that you are the owner and lets you reply. This opens up a whole new way to engage with your clients and build trust.
From your GMB dashboard, you can also publish posts and articles. Similar to that of a social media page.
Gain useful insights.
GMB has an analytics tab that lets you access useful local search performance data. It will display the search queries that led clients to your company, actions that took them to your brand and the performance of your photos.
Boost your local SEO.
Google's algorithm includes your Business Profile which contains everything you add with Google My Business. You can further assist Google by supplying GMB with keywords that you want to rank for. This will tell Google when to include you in local SERP and Google Maps.
For a new company, Google My Business is the perfect place to start your SEO efforts. This is boosted by the fact that searches that result in a local search are very close to sales. Think about searches like "Fast food near me" or "Car repair in Cape Town." These come from people who are looking to make a purchase right now.
It goes further than just Maps, a fully fleshed out Business Profile is dynamic. Google will pick and choose the information you supply to best match the search. This is why it is very important to include every detail you can on GMB.
Furthermore, you can build trust with your clients through reviews. Google notices the interactions on Google reviews and will favour brands that respond often. This is your way of letting Google know that you are active and dedicated to giving the best service.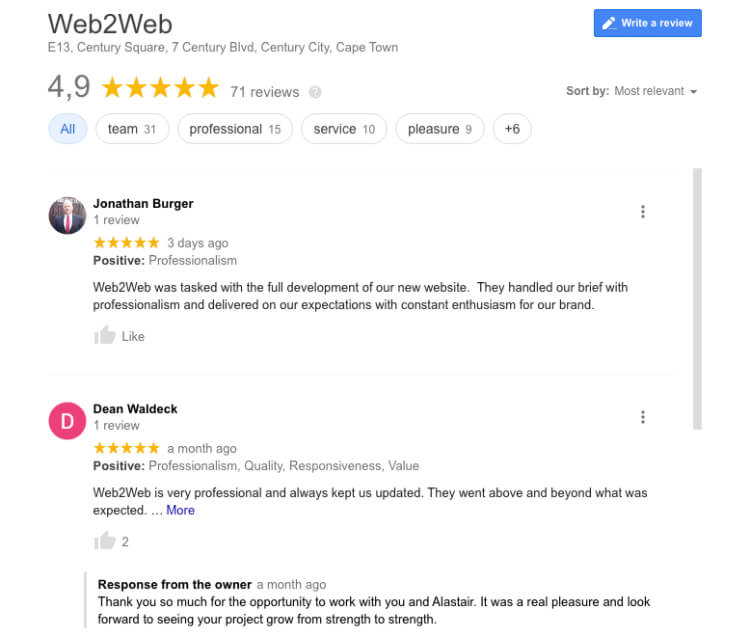 Use Google My Business on the go.
Since Google runs one of the biggest app stores, it makes sense for them to create apps for their products. Google My Business is no exception and it's available on both iOS and Android. You can use it to update your account, post statuses and pictures and view the analytics tab.
Set your business up for SEO success with Web2Web.
Getting your business online is more than just getting a website online. To be successful online, that website needs to be targeting competitive keywords and have Google My Business set up. This includes all the steps that we have covered in this article.
You cant stop there, your brand should show up on relevant social media and interact with your customers regularly. There is a lot to do which is why Web2Web offers the full set up to you. Our team knows how to optimise every step to match your business goals.
Contact Web2Web to get your company moving in the right digital direction.