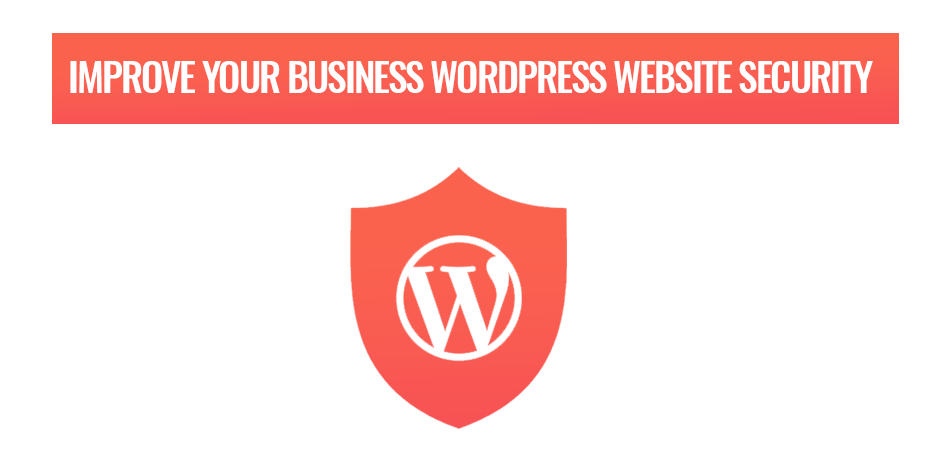 Improve your business WordPress website security
As one of the most popular Content Management Systems (CMSs) available, making a business website on WordPress is fun, easy and has reasonable out of the box security.  
There's a reason why so many people choose WordPress for their business which stands for its reliability and SEO capabilities. This doesn't make it perfect; no website is. That is why it is important for you to improve your business WordPress website's security.
Why do you need to improve your WordPress website security?
A hacked website can cause serious damage to everything about it and if that's your business website, then it puts your company at risk too. Anything from information theft to malware distribution can cause major issues for your brand and clients. Fortunately, by following WordPress security best practices, there are plenty of things we can do about that.
Picture these next steps the same way as getting a lock for your store's door and installing an alarm system. Your WordPress business website is a virtual building, so let's improve its security.
Use a reliable web host service.
It can be very tempting to save the extra money and opt for a cheaper hosting provider, but that may cost you more when things go wrong. Investing in a reliable service that can provide multiple layers of security now can go a long way for your company.
So how do you know if the web hosting provider is reliable or not? There are a few key factors we can look for. Being able to back up your website data quickly is very important, and an automated backup will come in handy. The provider should also be able to provide malware and antivirus scanning options as well as protection against DDoS attacks. Lastly, make sure you are given the SSL certificate.
Install a trustworthy security plugin.
Manually searching for security issues is a very long and not so fun process. Not to mention learning how to do all the technical processes for finding them. That is why WordPress's ability to use plugins is incredibly helpful. Installing a security plugin can help you identify threats and take care of the issues. To find a trustworthy website, read our article on how to not let your next plugin ruin you.
Get an SSL certificate.
This step is vital, not only for your security but for your clients and SEO too. If your website does not have one, Google Chrome will make your business website as unsafe and that may drive potential clients away. Nobody likes browsing in places where their own information can be at risk.
SSL or Secure Socket Layer is a certificate that you can install in a web server and it ensures s secure connection between a browser and the server. As a business owner, you sometimes handle private and sensitive data and the SSL will protect just that. Before you jump away to get one, there are some things you should check before getting one. Make sure that the provider has an SSL certificate themselves and get at least a 128-BIT encryption level.
Start using a firewall or VPN.
You have probably heard of what a firewall is, so we will keep it simple. A firewall helps you manage HTTP traffic by allowing you to monitor, filter or block it. This can be very useful when it comes to preventing security flaws on your website.
Next is the Virtual Private Networks (VPNs). If you haven't seen them by now, then you are doing a good job at avoiding ads because they have become increasingly popular lately and for a good reason. They protect browsing information by hiding IP addresses. It's cyber-invisibility. This can protect your identity and that of your clients on the web.
Update WordPress.
WordPress goes through many updates to improve functionality ad security. It's always a good idea to get the update as soon as possible but that can come at its own risks if you don't know what you are doing. Set yourself up for success and learn about how to update your WordPress website.
Set strong passwords to protect your database.
While this tip is simple and doesn't need much explanation, it's still just as important. Passwords are sometimes the first line of defence and that is why that first wall against threats needs to be strong. You can't stop at your business WordPress website, your database needs strong security too. Otherwise, you could be putting a lot of valuable information at risk.
Make sure that you and your clients are at their safest with Web2Web.
When it comes to the security of sensitive information and the integrity of your brand, there are no corners to cut. Finding the right web host, plugin and VPN while maintaining it all during WordPress updates can take a lot of time and require attention to every detail. This is exactly what our professional team at Web2Web are good at. We design, develop and improve business websites on WordPress so that you have one less problem to worry about. Make your business and clients safer and contact Web2Web.