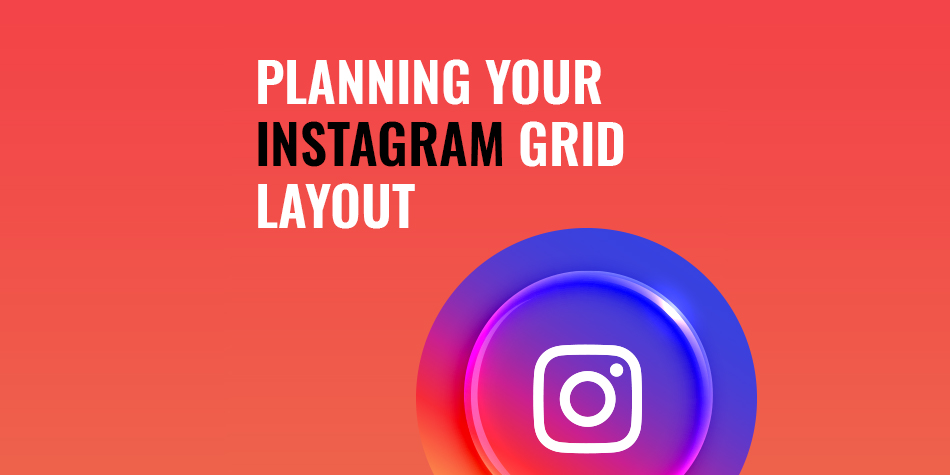 Make a professional Instagram grid layout
Your Instagram grid is a peek into your company and the layout is what sells the personality. Every Instagram page has all of that account's posts lined up into a grid of three images at a time. For influencers, it shows off their style, but for your company, it can bolster your brand's image.
In this blog post, we are going to cover ways that you can use the Instagram grid layout to your advantage. Changing individual posts into a schedule that creates a bigger picture and grabs your clients' attention.
Why does your Instagram grid layout matter?
As we just mentioned, your Instagram grid layout can show brand personality. From this perspective, all of your current and past posts can be seen, creating what will often be the first impression of your brand, especially if you use Instagram for marketing. In an instant, people will decide whether or not your brand might suit them, and an unorganised mess can lead to them turning away.
This is especially true if your company focuses on an aesthetic or a particular type of lifestyle, but it applies to everyone. Below, we are going to discuss how you can plan your Instagram grid layout for success and then go over popular strategies.
How to plan your posts for Instagram.
The best Instagram accounts start with a plan. To get you started, here are 4 steps that you can follow to get going.
Create a mock-up grid.
Prepare for consistency.
Keep the brand profile on hand.
Find a way to schedule posts.
Create a mock-up grid.
The first step to creating a good looking Instagram grid is to map out the images and test the layout. You can use photo-editing or design tools to put your images in a grid to preview the layout before you go live. Use at least nine images and make sure they are all square. Even though you can post slightly different sizes, a square is what Instagram is optimised for and the shape your images will have on the grid.
Prepare for consistency.
A beautiful grid won't happen if you are not consistent with your plan. Just one photo with the wrong colours, filter or order can ruin the whole look off-balance. You can use a photo-editing tool to keep the colours in check but remember to keep on track.
Keep the brand profile on hand.
As a company, the whole goal of your Instagram grid is to have the layout speak your brand language. You want to carry a unified look and message throughout your whole profile for success. Having your brand profile on hand when planning your Instagram grid will allow you to reference it and stay on brand. You don't want to slowly drift away from your goal.
Find a way to schedule posts.
Having a way to schedule posts in advance can save you a lot of time and make consistency easy. There are many different tools that you can use online. If you are unsure of where to start, Facebook (the owners of Instagram) have made Creator Studio to do just that. It's not the easiest tool to use but it is free and can get you used to scheduling your posts well in advance.
Creative plans to design and Instagram grid layout.
With the sheer amount of people on Instagram, there are many tried and true methods for making a grid layout look great. Before you make yourself start from scratch, let's take a look at them and learn from their success.
Colour.
By picking a colour palette or tone to stick too is probably the most common way companies style their Instagram grids. This makes your entire gallery look like a matching set, no matter what the content of the photos are. Many higher budget Instagram accounts might use built sets for their photos, but using the same filter on every image can do the same thing too.
You don't need to put yourself in a box with this one. Play with the colours, make them gradually change or combine the next few styles with colours. As long as it matches your brand.
Checkerboard.
If you alternate the style of the photos you post, your grid layout will become a checkerboard. You can use different colours or alternate images filled with text with photos, way your checkerboard is up to your brand. As long as your stick to the back and forth pattern, your grid will stay on point.
Rows and columns.
A grid lends itself to being the perfect way to post in rows or with consistent columns. Using matching images for each row or column can create a strong impression on the viewer and allow you to convert bigger messages with squares.
If you post in rows, you will need to post three images at a time, otherwise, the rows will break. Panoramic or longer messages can be displayed very well like this. Columns require a pattern of three to keep consistent. What's great about columns is that you don't have to make three posts at a time if your layout is ok with rotating the columns.
One continuous image.
This grid layout requires the most amount of preparation for a company. Similar to rows, three images need to be posted every time to create one large image that can span over the whole grid. The benefit of this layout is the impact it will leave on the viewer. It can very quickly become the talking point of people if done right.
Set up your Instagram account for success with Web2Web.
Creating a plan and staying on top of it can be complicated and it's very easy to mess up a beautiful grid layout. That is where our digital marketing team steps in. With Web2Web, you will have a well planned and beautifully executed Instagram grid that will speak your brand's language and draw in new clients.
Get in touch with us to find out how we can boost your social media presence.
Instagram logo vector created by starline on Freepik.