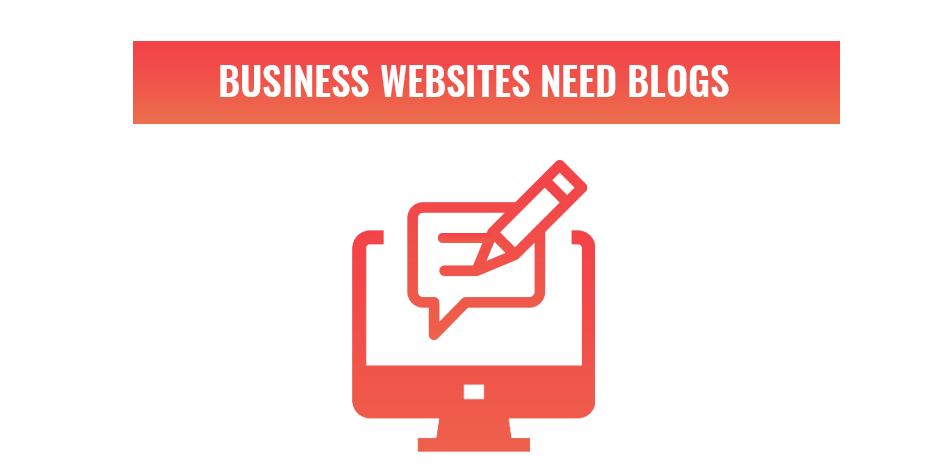 Why your business website needs a blog
Every year there are more and more social and media platforms for us to connect to our clients with, but it never detracts from why your business website needs a blog. This tried and tested way of sharing company news and media is still as strong as ever for your business. Allowing you to stand out from the crowd and set yourself up as an industry expert.
Big or small, a blog can grow your brand online. This is why it is so important for your business website to have one right now. It's very simple to set up too and can aid your marketing strategies up for long term success. In this blog post, we are going to cover five different ways that a business blog can boost your business and sales.
Share important updates with your clients.
When it comes to updating your audience about company changes, product information or service offerings, a blog can be a fantastic tool. Social media platforms are often limited in content length, both with character limits and audience patience. A blog, however, thrives on long-form content.
Your business website blog can provide in-depth information that your clients need to know. This flexibility is something you can't get on any other platform.
Establish credibility and be the expert people turn to.
With longer and more in-depth content, you can easily set yourself up as an expert in your field. Sharing blog posts about the latest industry news, trends and how they effect your customers can increase your views on your website while simultaneously building brand trust.
It is important that the information you share here will genuinely help your clients. Sharing some industry secrets will actually put you above your competition in your customers' minds. This will boost referrals and create more engagement on your website.
Get to know your audience better and interact with them.
A well-established blog will bring in new traffic to your business website. New readers are all potential clients that you can interact with and learn from. By replying to blog comments and studying the new source of demographic data, you can get to know more about your clients.
In addition to this increase in data, your relationships will grow stronger creating more loyal customers that are active with your brand online.
To get the most out of this tip, encourage your audience to comment on your blog and social media shares. This can take time but when it starts, engage in meaningful conversations with your audience. The more you interact with them, the more they will engage in future posts.
Boost your SEO and local rankings.
Search engines like Google want to show the most relevant pages when someone asks a question. Blogs are better tools for search engine optimisation (SEO) than you might initially think. They very effectively use these SEO tips in ways that your wain website cannot:
Touch on long-tail keywords that would usually clutter your main website.
Receive high authority backlinks to your website.
Create a steady flow of audience traffic and engagements.
When you create blog content, create it for long-tail keywords that are related to your brand. This can get your website to rank for searches that your website would usually not show up on. Think of your main website at the place for your main service keywords while your blog can rank for tips, guides and lists.
When your content is helpful and you are sharing it effectively, other domains will notice. This is a fantastic chance to build relationships with them and get them to link to your content on their own blogs. Keep this up and your SEO ranking will go up.
Lastly, search engines view websites with more traffic as more trustworthy and helpful. When your blog has a consistent audience, Google will notice and rank you higher for it.
Expand your Social Media and Emailer strategies.
Blog posts are the perfect addition to your social media and emailer calendar. Linking your posts to your social media platforms and emailer content will create a direct link to your website. This can even be used as a way to drive more sales if the blog post is product or service related.
It doesn't have to stop at one share on social media. You can repurpose older blog posts by sharing quotes and pictures. This will create more consistent traffic to your website.
Email marketing is a very effective strategy, but it's not always easy to get people to join. This is where your business website's blog can step in. Consistent posts that offer value to your readers will create an audience that want to be notified on when the next post comes up.
Link your blog post to your emailer and supply a juicy snipped to lure the reader in. Don't just copy-paste the whole blog post because that will stop the need to travel to your website.

Get the blog that your business website needs with Web2Web.
When it comes to setting up a blog that will scale with your brand and creating content that will last for year to come, you need to lay a strong foundation on your website. This includes UX design, website development and a consistent content strategy.
If you want to set your business website blog up for success, do it with Web2Web. Our skilled team of designers, developers and writers will put your website onto the next level and get your brand speaking to your clients.
Want to find out more? Contact us and we can walk you through everything you need to know.
Blogs we think you should follow: