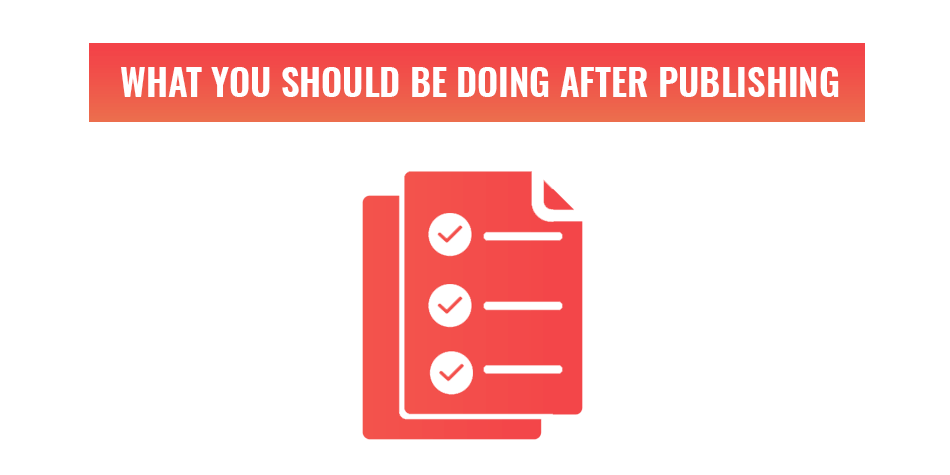 What you should do after you publish a blog
You have just done the final proofread and you are ready to click publish, but what should you do after you publish your blog post? Definitely not just leave it, because then all your hard work won't do anything for your brand. You can't just stop after sharing it on social media either. That will just re-engage your current audience.
If you want your business blog to do work for you, you have to put in more work after you publish a blog. Below we are going to answer the question, "what should I do after I publish a blog?", with seven simple steps that you can add to any marketing strategy.
To learn more about what you should be doing before you publish, read our article about making content that will get noticed.
Reread and Relink.
We know you just put in a lot of effort to make sure your business blog post is perfect. Trust us, we do. However, little mistakes can be overlooked and it's often good to look at what you wrote with a fresh mind. So, the very first thing you should do after you publish a blog post is proofread again.
While you are still on your business website, now would be a great time to find older posts that could link to your new one. Chances are, your audience will still read your older posts and creating a link to a newer one will increase its traffic.
Use your brand's emailer.
One of the quickest ways to increase traffic to your blog post is through your brand's emailer. Your audience here is already interested in your content, so show them where to find more. So, if you have an emailer, you should be doing this step after you publish a blog post.
To make this step even more effective, there are some guidelines we should follow. When sharing your blog post on the emailer, you should only include a snippet of the content. Putting the entire blog post will give no need to visit your blog, so make a teaser to grab their attention. This teaser should have enough information to get a reader interested followed by a strong call-to-action to get them to your blog.
Share on social media.
If you haven't been doing this already, you are missing out on a lot of traffic. To get you started, read our article about choosing the right social media for your brand. This will help you pick which platform you want to share your content on.
We can take this step even further. Posting your blog posts just once will only yield limited results. To get more traffic, add your older blog posts into your social media strategy too. This will keep those posts alive and get new readers engaged with your content.
When reusing older blog posts on social media, it is important to keep it fresh. Don't just copy the post word for word, make it new. Here are three ideas that you can use to freshen up the message:
Use a quote or an excerpt from the blog.
Share an important image that appeared in the blog.
Tag an influencer who featured in the blog.
Work with others.
Working with other blogs and influencers is a great way to increase traffic to your new blog post. However, this step is easier said than done. It can take a lot of time finding, curating and connecting with like-minded content creators. That is why we are going to break down one process that you can use.
It starts with a Google search on topics that are related to the one your posts are about. You want to find high ranking blogs that share quality content. From that list, look to see if they have social media pages and choose from the active ones. Then take the first step, let them know about posts you make that they will be interested in sharing. Don't be afraid to share their content either.
Through this, you will boost traffic to your blog, increase engagements on social media and create high-value backlinks.
Reply to comments.
If you are new or experienced with creating blog posts, you know that just getting your readers to start commenting can be a challenge. So, if your blog has a comments section, you should be active with them after you publish a blog post.
When you engage with your readers, it rewards them for commenting. This will encourage them to do so again and others to join in. Not only that, but search engines will notice the activity too, boosting your search engine results page (SERP) rankings.
You can use Creator Studio when it comes to managing comments on Facebook and Instagram. It's a free social media manager that puts both platforms into one place.
Answer questions with your blog.
Using more unique social media pages like Reddit and Quora are perfect for this step, although you can use the standard ones too. After you publish your blog post, you should search for people asking questions related to the same topic.
When you find the perfect question that your new blog post answers, you can reply to their query with your blog. But before you post a link and leave, you need to make sure your reply is helpful and informative. Answer the question in your reply and offer more information with your blog.
When it comes to Reddit and Quora, users appreciate genuine answers that really help.
Read and study your analytics.
This final step is one of the most important things that you should do after you publish a blog post. Without looking at your analytics, you will never know what is and isn't working. Content management systems (CMSs) like WordPress offer their own analytics but you can always go a step further with Google Analytics. This will allow you to see the results of all the work you put in.
Here is an easy guide to setting up a Google Analytics account. You can use this to find any weaknesses your current plans have and form strategies to solve them.
Get engaging content creation and boost your traffic with Web2Web.
When it comes to content, consistency is key. Both regularity and quality need to be maintained for results to grow in addition to using the seven steps that we have covered. This can become an overwhelming task to handle, but with Web2Web, that can become a worry of the past. Our marketing and content team know the ins and outs of engaging content and getting your clients to find it. Contact us if you want to turn your content management into a successful marketing strategy.